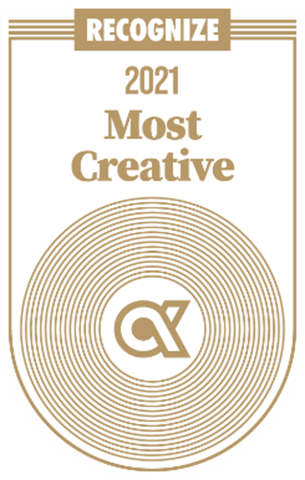 CHARLOTTE, NC – O. R. Colan Associates, LLC, (ORC), one of the nation's premier firms specializing in land acquisition, relocation, and program management for infrastructure projects, has won the Most Creative Recognition Program award from Awardco, honoring the top employee recognition programs in the nation. Awardco, the fastest growing rewards and recognition company in the nation, released its annual awards and recognized its top performing clients with the best employee recognition programs.
"ORC is honored to be recognized for the innovative ways we use Awardco. With Awardco, ORC can recognize employees for their accomplishments, and it has been wonderful to see our employees recognize each other with the peer-to-peer feature," says Catherine Colan Muth, CEO. "ORC's QA/QC program is an initiative that ORC is very proud of, and Awardco has made it possible for us to integrate our quality tracking program with their platform. ORC's Phishing program is another creative program we are proud of, as it allows us to recognize employees who are vigilant about cybersecurity."
Awardco's 2021 awards were selected based on a rigorous process that included both qualitative and quantitative data. ORC was nominated and selected as part of an influential group and chosen for our Phishing program to report e-mail threats and our Quality Rewards Points (QRP) program due to the integration that was developed to support this. After a nomination process the winners were selected from an elite group.
"During the last year company leaders around the world faced huge challenges to support employees during the COVID-19 crisis. One of the most effective ways we've seen to support employees in any circumstance is timely, rewarding recognition," said Steve Sonnenberg, Awardco CEO. "It's been amazing to see companies rise to the challenge and adapt to change, all while providing a safe space for employees to be recognized and rewarded for their exemplary efforts. We're excited to announce the winners of this year's awards, and we look forward to the amazing things they'll do in the future."
About ORC
Founded in 1969, ORC is one of the nation's largest right-of-way service providers offering a full range of ROW services to public agencies, utility companies, and energy clients. As a national firm, we employ 260+ staff members, with 35 offices in 23 states. Our clients include more than 25 utility companies, 125 airport authorities, and 30 State Departments of Transportation, as well as FEMA, DOE/NNSA, EPA, FTA, USACE, HUD, GSA, National Park Service, and numerous state, county, municipal, and local public agencies.
About Awardco
Awardco has teamed with Amazon Business to provide the most powerful and flexible software for its clients' recognition programs. Using Amazon's trusted global network, Awardco clients can show employees how much they are appreciated by allowing them to choose rewards they care about. Millions of products from Amazon, thousands of available hotels through Priceline, gift cards, event tickets, and custom service awards provide countless options for clients and their employees.