At ORC when everyone's in, everyone wins
Picture yourself surrounded by a team who challenges, supports and inspires you. You are recognized for your diverse ideas and empowered to contribute in an innovative environment. Leadership is transparent. Flexibility is embraced. Autonomy is encouraged. At ORC, your voice is heard and leadership cares.
Do you want to grow within a company? At ORC, we pride ourselves on the longevity of employees and senior management because of the many perks we offer.
Professional Trainings, Discounts & Reimbursements
Professional Trainings, Discounts & Reimbursements
Get reimbursed for professional courses, relevant certifications, and degree programs. ORC has partnered with The CE Shop to offer employees discounted rates on pre & post real estate licensing and continuing education requirements. In conjunction with the IRWA, ORC offers training courses to all employees.
Recognition Program
Whether you're getting or giving, you will be recognized and rewarded by peers and leaders. A little recognition goes a long way.
Flexible Work Schedules
Need to work from home sometimes or have to run to an appointment, or start later to do school drop-off? No problem! We offer flexible work schedules so you can make your child's play, accompany a loved one to an appointment or get that cleaning at the dentist.
Development Opportunities
Development Opportunities
Do you want to develop within an organization? We pride ourselves on our comprehensive learning and development platform that provides job-related guides, tutorials, how-to's, as well as learning opportunities to develop your skills.
Industry Training
We recruit candidates and veterans in different stages in their careers, without industry experience, to become Agents and participate in an internal professional development program.
Comprehensive Plans
Medical

3 Plan options, some with a HSA
Free Wellness Programs

Dental
Vision
Employee Assistance Program
Paid Leave
We promote a healthy work life balance by offering employees different paid leave opportunities including:
Flex time
Sick leave
PTO *
Holidays *
* Not all employees are eligible, check job posting for more details
401k
Contribute to your retirement fund and ORC will match 100% of the first 2% per payroll.
An additional year end discretionary match may also be made.
Life Insurance
We provide Life Insurance Coverage Options because we all have a future. Make sure it's secure.
Short & Long-Term Disability
Short & Long-Term Disability
To help prepare for the unexpected, we provide Short & Long-Term Disability coverages.
Ready to Apply Now?
We regularly seek qualified candidates for numerous positions. These often include project managers, agents, document specialists, and more.
Don't see an open position?
Easily submit an application to be considered for future openings that become available.
Apply Online
ORC Ethics Hotline
The ORC Ethics hotline is a free confidential hotline that allows ORC employees, clients, and vendors to report anonymously any alleged employee misconduct or alleged employee illegal/unethical behavior 24 hours a day, 7 days a week.
Read More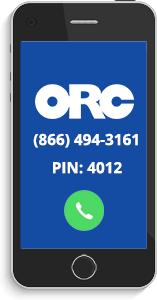 OFCCP Complaint Hotline
To report unlawful race or sex stereotyping or scapegoating in employment training programs or in employment generally:
Contact Number: (202) 343-2008
Employee and Applicant Rights and Responsibilities
EEO is the Law
Federal law prohibits job discrimination based on race, color, sex, sexual orientation, gender identity, national origin, religion, age, disability and genetic information. These protections extend to all management policies, practices and decisions, including recruitment and hiring, appraisal systems, promotions, training and career development programs.
EEO Policy Statement
EOE / Minorities / Females / Veterans / Individuals with Disabilities
In order to be considered for employment, it is ORC's policy for all candidates to complete an online application for a specific job opening. ORC will not accept paper applications or resumes that are received in any other electronic format, unless an accommodation is requested.
ORC is an equal opportunity/affirmative action employer. If you need accommodation for any part of the employment process because of a medical condition or disability, please contact Human Resources to let us know the nature of your request.