Reliable Solutions
The ORC team of right-of-way professionals bring experience in every facet of the pipeline industry. From greenfield pipeline projects to integrity work, from rebuilds to encroachment mitigation, ORC demonstrates a proven track record of project excellence and regulatory compliance. We represent clients ranging from regional providers/LDCs to some of the nation's largest interstate pipeline companies.
Service Approach
ORC understands that innovation and responsiveness are integral to meeting the fast-paced demands of today's pipeline infrastructure market. Building a team around the unique needs of each of our industry clients is our specialty. We listen to our clients, and adapt and mobilize to customize each client's product according to their needs and within their budget. ORC team leaders bring FERC/PUC and multi-state regulatory expertise. Our U&I Pipeline services include:
Survey Permitting and Support

Right of Way and Fee Negotiations
Public Meetings/Stakeholder Relations

Environmental and Regulatory Support

Damage Settlement and Reclamation Support
Related Featured Projects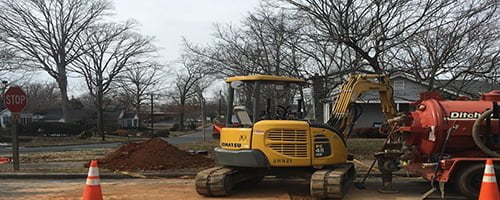 Threading the Needle: Navigating Typical Distribution Right of Way Concerns
Distribution Pipelines (low pressure pipelines designed to serve customers along their route) present an array of challenges ranging from their proximity to existing underground and above
ground utilities to how their installation impacts individuals and businesses during construction. In most all cases, space is a commodity and frequently unavailable except outside of existing road rights-of-way.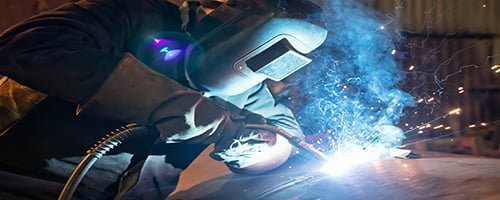 A Safety Tip from the Firing Line
Working on a pipeline project during the construction phase requires constant vigilance. Employees are surrounded by safety hazards ranging from open ditches and overhead powerline contacts to being aware of the movement of heavy equipment on the line. There are crush hazards, trip hazards, fall hazards and even venomous snake hazards just to name a few. The requirement for personal protective equipment (PPE) and daily safety reminders is not only practical it is lifesaving.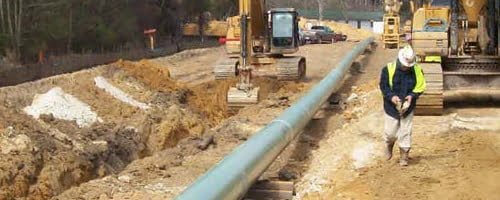 Working the Construction Segment of a Pipeline Right of Way Project
While many right of way assignments end with the successful acquisition of the necessary permanent and temporary rights of way; the pipeline right of way agent's job often continues through construction, restoration and final in-service of the pipeline.