ORC offers a host of technology solutions to both our employees and our clients. Our dedicated full-time IT Department ensures that each ORC project team is fully supported during the entire project. Our IT department is on-call to respond to technical issues and over 90% of all IT requests are resolved the same day, allowing our employees to avoid potential costly delays.
We continually implement new security and software products and features, each aimed at facilitating safer and more efficient work for ORC employees as well as our clients and partners.
ORC Parcel Suite® v2.
x
ORC Parcel Suite is an all-new, comprehensive, web-based right-of-way database solution designed specifically for the management of acquisition/relocation projects. ORC Parcel Suite simplifies the end-to-end processes of project management by organizing the planning, tracking, and administration of ROW activities.
Key Features
Internally Developed – 100% developed and maintained in-house by ORC Software Solutions staff.

Completely Customizable – navigation, sections, fields, validation and help system per project.

Security – granular role-based security to provide users with only what they need.

Data Entry Tools – speed up bulk data entry with Sheet View.

Dashboards – completely customizable graphs and data sets to present your key metrics.

Paginated Reports – powerful and customizable tabular reporting with optimal export formats for printing. Schedule and receive reports automatically.

GIS Integration – visualize your project with static and dynamic map layers based on conditional, real-time project data criteria.

Contact Logs – track all log activity and enter comments with speech recognition.

Image Management – add images from the app or from the field via ArcGIS Field Maps integration.

File Management – add, view and categorize file attachments.

Mail Merge – generate and populate custom Word-based templates such as letters.

Rules Engine – complete rules engine for complex validation, email and SMS alerts, field updates and calculations.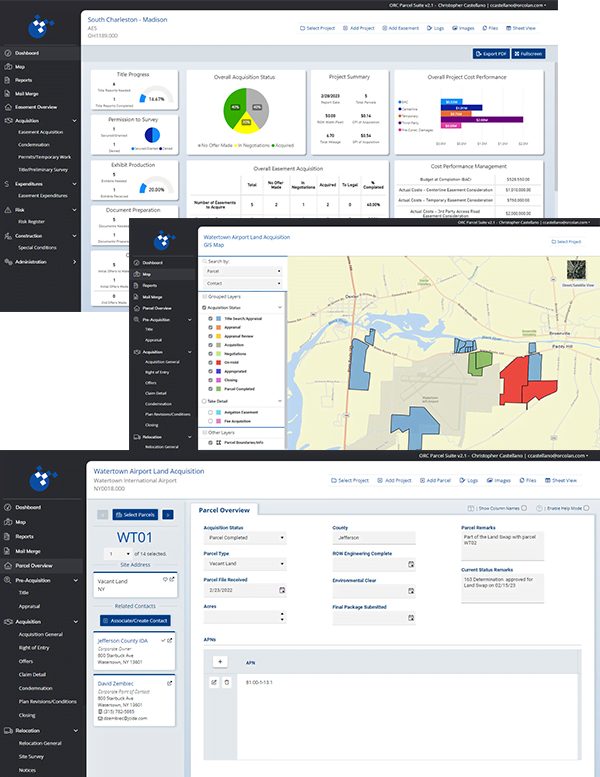 Did you know?
Every ORC employee can opt for the latest device model with integrated 4G/5G internet access. No boundaries means more efficient project work.