Embracing the Evolution of Technology in ROW Services
As technology advances, the role of technology in right of way (ROW) services is also evolving. From GIS systems and drones to online collaboration platforms like ORC Parcel Suite®, cutting-edge technology is transforming ROW service delivery. At ORC, we are committed to staying ahead of the curve and integrating these innovative technologies into our services.
Providing GIS Solutions for the ROW and Utility Industries
Our expertise in Geographic Information Systems (GIS) enables us to excel at providing tailored solutions to meet project requirements and give clients a deeper understanding of geospatial data related to ROW and utility industries. Years ago, our experts recognized the need for a powerful resource for our clients' GIS and project reporting needs. In 2016, we began developing our in-house GIS platform, and we established a full-time GIS team within our IT department. These evolutions represented major investments intended to address this client need. Since then, our GIS staff have produced and managed geospatial data for various clients across multiple industry sectors.

Leveraging Modern GIS Tools for Customized Results
We utilize a diverse range of modern GIS tools, including ArcGIS Pro, ArcGIS Online, ArcGIS Field Maps, ArcGIS Experience Builder, ArcGIS Survey123, ArcGIS StoryMaps, and Google Earth Pro. Our products are customized to meet each client's needs, and our GIS team combines project data with mapping functionality, enabling clients to quickly examine, track, anticipate, and interpret data. This approach benefits clients' bottom lines, as each project receives special attention and generates unique deliverables. We are also exploring new technologies, such as augmented reality and 360 image capture, for future GIS implementation.
Streamlining Communication with ORC Parcel Suite®
To enhance communication and collaboration between our team and clients, we offer ORC Parcel Suite, a proprietary, customizable, web-based ROW database solution specifically designed for managing acquisition and relocation projects. ORC Parcel Suite streamlines end-to-end project management processes by organizing planning, tracking, and administration of parcel activities. ORC Parcel Suite also provides an innovative way to track projects and share project data, visually representing the status of tasks, project status, and risks.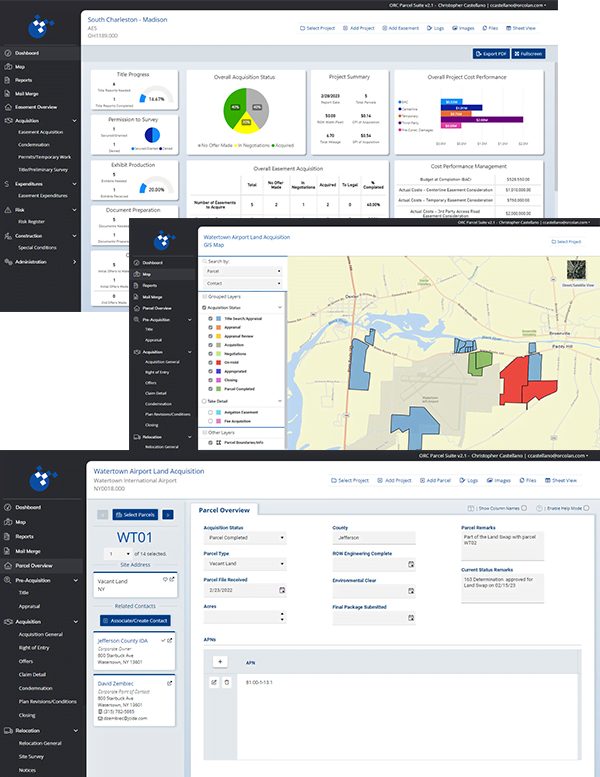 Key Features of ORC Parcel Suite®
ORC Parcel Suite boasts an array of features, including a completely customizable fields designer, enhanced data entry tools, dynamic reporting, visually powerful dashboards, GIS/mapping integration, document storage, automated letter generation, detailed contact logs with voice recognition, granular security and more. A complete rules engine handles complex validation, email and SMS alerts, field updates and calculations. Furthermore, ORC can track and report regularly on the completion percentage of all applicable milestones for the period, illustrating timelines, flagging both lags and advances.
ORC Parcel Suite is 100% developed and maintained in-house by ORC staff.
Delivering Efficient, Transparent, and Cost-effective ROW Services through Technology
At ORC, we recognize the importance of technology in delivering efficient, transparent, and cost-effective ROW services. Our GIS solutions and ORC Parcel Suite provide a deeper understanding of project data and facilitate seamless communication and collaboration between our team and clients.
ORC's commitment to harnessing cutting-edge technology in GIS solutions and ORC Parcel Suite sets us apart as a leader in right of way services. By continuously innovating and adapting to the evolving technological landscape, we ensure our clients receive the most efficient, transparent, and cost-effective services possible. Through tailored GIS solutions, advanced project tracking, and proactive risk management, ORC is poised to deliver exceptional results and forge lasting partnerships with clients across various industries. Experience the ORC difference and take your right of way projects to new heights with the power of technology on your side.