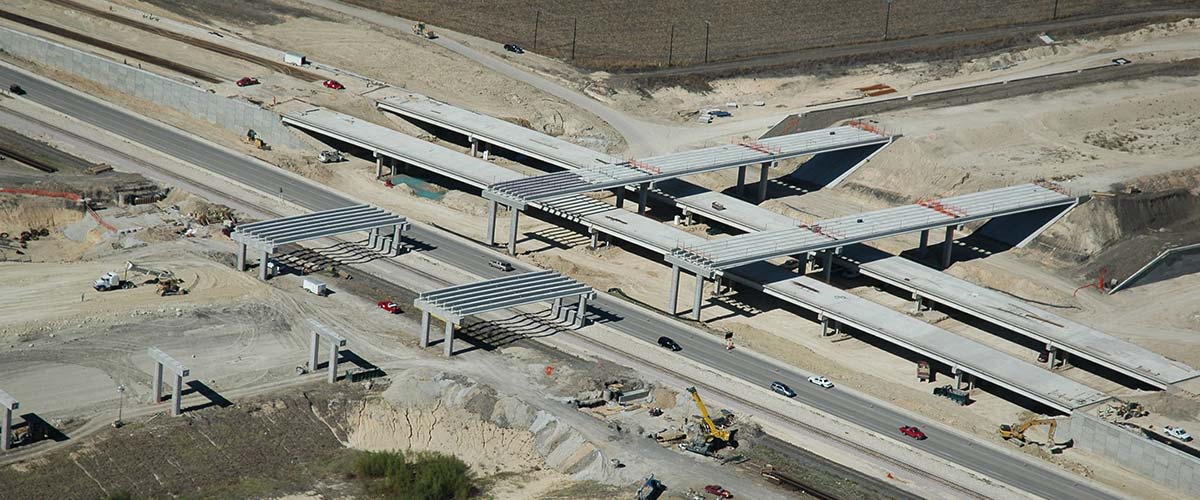 ORC was the right-of-way consultant on this massive "design-build" project. SH 130 is a 90-mile toll road designed to relieve traffic in the Greater Austin area by creating an alternative corridor to Interstate 35. This corridor extends from north of Georgetown, east of metropolitan Austin, to I-10 near Seguin. SH 130 is one part of the Central Texas Turnpike Project (CTTP), which was designed to improve improve mobility and safety in the region. The first phase of the CTTP included Loop 1, SH 45 North and the northern 49 miles of SH 130. This massive initiative also represented the largest highway project in Texas and the largest design-build transportation project in the United States.
ORC was initially hired by Lone Star Infrastructure – a consortium of engineering and construction firms organized to finance, design, build, and maintain State Highway 130 – to acquire 425 parcels and relocate 380 for Segments 1-4. ORC was then awarded a contract for Segments 5 & 6. Generally managed by the SH 130 Concession Company – an independent company formed by Cintra and Zachry American Infrastructure (ZAI) – this current phase represents another 300 parcels to be acquired and an additional 175 relocations.
In order to maximize resources and maintain an aggressive timeline, the ORC team worked closely with project sponsors to identify the most critical parcels to the construction schedule. For instance, our team prioritized the acquisition of right of way necessary for the construction of 7 bridges, which, in terms of construction complexity, took considerably more time to build than the roadway itself. Our team also became accustomed to working with clients to quickly prioritize the most complex and time-sensitive right-of-way acquisitions in an effort to adhere as closely as possible to rigorous design-build schedules.
Location:
Austin, TX
Client:
Lone Star Infrastructure; SH 130 Concession Company
Market:
Highway
Services:
Project Management, Negotiations, Acquisitions, Relocations, subconsultant Appraisal, subconsultant Appraisal
Date:
July 2002 – December 2012